Ever wondered, can you buy digital games on ps5 disc version?
In the ever-evolving world of gaming, the PlayStation 5 has emerged as a trailblazer, offering two distinct versions – one with a disc drive and another as a more affordable digital-only edition.
While the digital edition is straightforward in terms of game downloads, there's a burning question that echoes among PS5 owners with the disc version: "
Can you download games on the PS5 disc version?" This draws our interest and motivates us to find solutions.
Can You Download Games on a PS5 Disc Version?
The answer is a resounding yes! Both versions of the PS5, whether with or without a disc drive, allow gamers to download their favorite titles directly onto the console's blazing-fast 825 GB solid-state drive (SSD).
With the PS5 Standard Edition (the one with the disc drive), not only can you download games from the PlayStation Store, but the disc drive also serves as an alternative means for game installation.
When you insert a game disc into the PS5's Blu-ray drive, a seamless installation process is initiated.
During this process, the game data is copied from the disc to the console's internal storage.
This installation method ensures nearly instantaneous access to your games with minimal loading times, thanks to the PS5's high-speed SSD and Gen 4 M.2 NVMe drive expansion slot.
Once installed, you can jump right into the game. However, it's essential to understand that the disc still plays a role as a Digital Rights Management (DRM) tool.
To authenticate your ownership and play the game, you must insert the disc.
What About Downloading PS4 Games on the PS5 Disc Version?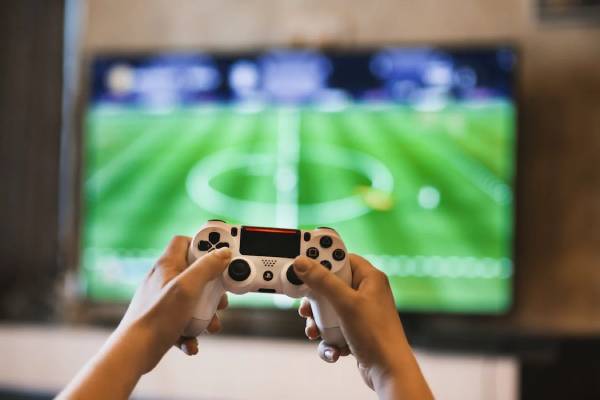 The PS5 brings with it an exciting level of backward compatibility, supporting over 4,000 PlayStation 4 titles.
For those who own physical PS4 game discs, inserting them into the PS5's disc slot initiates the installation process.
The console takes care of downloading and installing any necessary updates and patches, ensuring an optimized gaming experience on next-gen hardware.
The same convenience extends to digital PS4 games linked to your PlayStation Network (PSN) account.
Additionally, some cross-gen titles offer the option to upgrade to the PS5 version, promising improved graphics, doubled framerates, and access to new content.
Most upgrades are available at no extra cost, although certain games may require an additional payment.
This means that you can download either version of the same game from your Game Library on your PS5.
To make the transition smoother, you also have the option to transfer digital games and saves from an existing PS4 console to your PS5 using Wi-Fi data transfer.
Moreover, you can run PS4 titles directly from an external USB game drive connected to the PS5, especially if you've used it with a PS4 or PS4 Pro.
How to Download Games on PS5 Disc Version?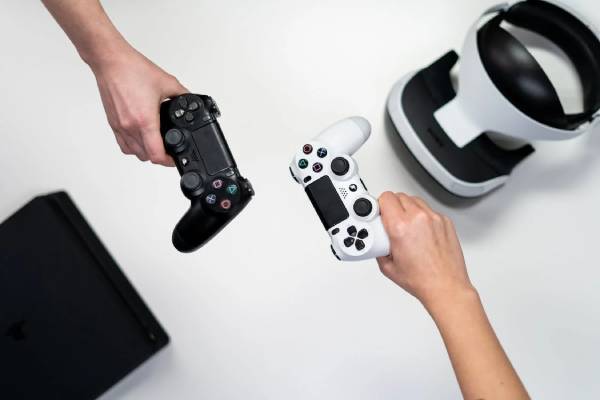 Downloading games on the PS5 disc version is a straightforward process, provided your console is connected to the internet, and you're logged in to your PSN account.
Here's a step-by-step guide:
Head to the PlayStation Store, search for your desired game and complete the purchase if you don't already own it.
Go back to the Games home page and select the Game Library.
Scroll through the "Your Collection" and select the digitally-owned game you wish to download.
Choose any downloadable content (DLC) alongside the base game, and click Download.
Additionally, you can initiate a remote download on your PS5 using the PlayStation App on your Android or iOS device.
Simply navigate to the app's Game Library > Purchased section, select the game, and tap Download.
The next time you turn on your console, the game will begin downloading immediately.
Are There Any Digital-Only PS5 Games?
Yes, there are digital-only titles available for the PS5, ranging from online multiplayer games and indie hits to select classic titles from the PS1, PS2, and PS3 eras, often included with a PS Plus subscription.
While some digital-only titles have eventually seen physical disc releases through third-party publishers, there's a growing trend of upcoming AAA games opting for digital-only launches.
This trend aims to maintain game prices, but it raises questions about game preservation efforts.
Companies have delisted legacy titles from digital marketplaces, and Nintendo has closed its Wii U and 3DS eShops, emphasizing the importance of physical media.
Digital-only releases may promise lower game prices, but publishers have already set a precedent by charging $70 for digital copies, potentially contradicting the notion of affordable gaming and the potential obsolescence of physical media.
If you prefer owning physical copies and retaining control over your games, purchasing the disc version of games for your PS5 remains a practical choice.
Physical copies can also be resold to recover some costs, and you can buy pre-owned game discs, which isn't possible with digital-only games.
Can You Share Digital-Only PS5 Games?
A common query arises regarding whether you can share digital-only games, similar to how you would with physical copies.
The good news is that you can! The PS5 offers a Console Sharing feature that enables anyone signed into your console to access and play games from your library.
This feature extends to digital collections, even when one or both consoles lack internet access.
It's auto-enabled when you sign in to PlayStation Network, but you can adjust it through Settings > Users and Accounts > Other > Console Sharing and Offline Play on your PlayStation 5.
In summary, the PS5 disc version provides flexibility, allowing you to play physical game discs and Blu-ray movies.
However, this doesn't restrict you from buying and downloading games directly onto the console, as explained above.
Whether you own a disc or disc-less PlayStation 5, downloading games is still a fundamental part of modern gaming, particularly for online multiplayer and Games as a Service (GaaS) titles.
It's important to consider the substantial updates developers release for games, regardless of their digital or physical form.
As the gaming landscape evolves, the choice between disc and digital will continue to be a matter of preference.
The PS5 accommodates both approaches, ensuring you can enjoy your favorite titles with ease, whether you're a disc aficionado or a digital devotee.